Welcome to "The Good Knife"
Contactless doorstep deliveries of delicious Italian ingredients.
We are a local family run wholesale and home delivery service based in Guildford. We offer deliveries Monday - Friday within the M25, and the Surrey area
Any queries please contact Lucy@thegoodknife.co.uk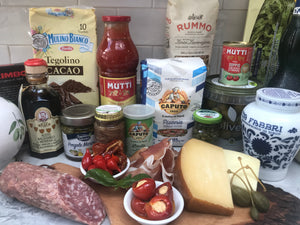 About us
Hello I'm Lucy Della Ragione, founder of The Good Knife.
We have had our family wholesale business L'Antica Bottega running for ten years, with my lovely husband Gianni who is from Pozzuoli, near Naples in Italy at the helm.
The Good Knife has been in the pipeline for a number of years but it took a global pandemic to get it off the ground! on the morning that lockdown was announced and all the restaurants closed, we realised that we had to change the business and fast, I quickly formulated an online flyer listing our products, and we have grown from there. Mostly through word of mouth recommendations. We also have a young family, 9 year old twin girls and a baby, so it has been a real juggle, but we are delighted to be providing a little culinary happiness in people's homes.
Customer Testimonials
"I could not be happier that this crazy pandemic and all the terrible stuff that goes with it has brought me access to your glorious food. I'm gushing, but I so love food, and this is such good food" Marion Pennington 
"Anyone in search of Italian delicatessen suppliers look no further than the Good Knife. Caputo 00 flour is the only flour you will ever need to make authentic pizza, focaccia, even millefoglie! A weekly delivery of fresh burrata will be your new 'must' this beautiful cheese seduces you with its unique taste and delicate palate. Burrata, crudo and rocket is the ultimate home made pizza. Have a go, bring a tiny part of Italy to your house, trust me, the taste will bring back memories of your summer holidays in Italy" Nesta in Teddington.